Food
at Temple Street Night Market
Food has always been a big part of Hong Kong Chinese night time culture, and the Temple Street Night Market is no exception.
At the night market you will find all types of food, both snacks and full meals. Much of it is sold from "dai pai dong", or small food stalls. Restaurants and cafes also dot the road and side streets but it is in the dai pai dong, particularly in the cooked food bazaar, that the real life of Temple Street Night market food is to be found.
As the Hong Kong Chinese are very fond of seafoo0d you will find no shortage of fish and shellfish on offer, many of the restaurants and dai pai dong specialize in one or more kind of seafood. But they all also have a full menu so those who prefer meat or vegetables will be well catered for.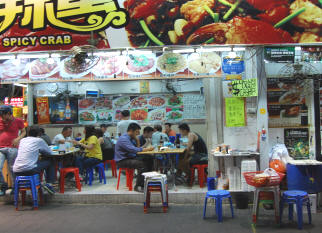 At the same time hot bowls of noodles are always popular as a before dinner, after dinner, or midnight snack. You'll see many choices of noodles, soup and ingredients on offer. Look out for the traditional prawn dumplings, won ton, sliced fish cake, and fishmeat balls.
The custom in Chinese seafood restaurants is that the food should be as fresh as possible, and that means still swimming. Hence the buckets and tanks outside the restaurants and stalls are not there as aquariums, no they are part of the menu as well.
It's a common joke that a Chinese seafood restaurant is like going to a free version of Ocean Park, the aquarium them park on the south side of Hong Kong island.
Sample prepared dishes are also on display such as chili and garlic scallops which can be ordered with the point of a finger and will take just minutes to be steamed to perfection and arrive on your table for your enjoyment. Typically washed down with hot Chinese tea, which comes in utilitarian large plastic jugs, or a local cool beer.
Keep reading for the must-try dishes at the night market restaurants
Top dishes to eat at the Night Market
Chili Crab - Made with fresh Crab and lots of fresh Chili this is a powerful dish that is a particular favourite, several restaurants even claim to be the home of the dish. Variations include additions of garlic and fermented or "black" beans.
Steamed Fish - A Cantonese classic where the fish of your choice is steamed rapidly until just done with only ginger and scallion, then served with a wash of hot oil and light soya sauce. Eat it quick while it is hot! The preferred fish is Grouper for this dish, but other fish also work and depending on your budget and the number of people dining another fish may be more suitable. The largest fish are the most expensive as they are more impressive, but actually do not have more flavour and can be less delicate in texture.
Deep Fried Squid - A Hong Kong classic that combines a crispy breaded outside with succulent soft al dente squid inside. Served with salt and white pepper or sweet vinegar as a dipping sauce. Wildly popular with kids! This dish has similarity to the Italian dish "Calamari Fritti" but tends to be more tender due to the freshness of the squid.
Claypot hot-pot rice - Once prepared over charcoal flames these dishes are now made super fast on flaming gas burners, but even so be prepared to wait 20 minutes as they are cooked from scratch. The combination of rice with fresh flavorful ingredients, which vary and can include Chinese sausage or preserved meats, or minced pork cakes flavored with salted egg or salted fish, or Chicken and mushroom, is heavenly. The fierce cooking gives a crispy outside and a soft inside. Served with plenty of dark soya sauce which you pour over the rice to taste and mix before serving.
Roast Pigeon - These small birds are bred specifically for the table, it's not the same pigeons you'll see in public parks, and are normally roasted whole. Chopped into meaty chunks they are served whole, including the head. Sweet vinegar and salt and white pepper mix are the condiments that go with this dish.