What to Buy
in Temple Street Night Market
Go to a market and buy interesting things, that's sort of assumed, but what is unique in the Temple Street Night market that is a don't miss choice to buy? There are many categories of things and of course it depends upon your interests but look out for these:
Fashion accessories - From hair combs to bangles, there are Asian specific, modern and the latest trends. Some Hong Kong favorites like Hello Kitty are always seen, but some new inventions like plastic spring strap bracelets appear rapidly here.
Handbags, wallets and belts - Various leather and fabric goods are always popular, the range of choices of styles is dramatic, and stalls will put up an item like a handbag in every color they stock, making a veritable rainbow of choices and ensuring you'll be able to find one to match an outfit. Huge selections of sunglasses can also be found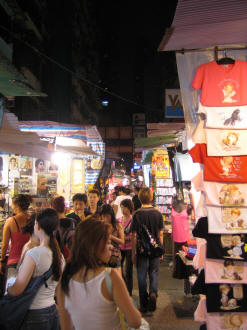 Brand and Custom T-Shirts - Plain shirts, branded shirts, football team and car related, there are ever type of t-shirt you can imagine. Some stalls have plain shirts together with transfers that can be applied to the shirt right there in the stall to create a custom look.
Electronics - From fancy desk phones through Hello Kitty appliances, from LED torches to pocket radios, there are no shortage of funny, conventional and outrageous choices. Most are battery powered, but if choose mains powered ensure they will be suitable for your voltage back home.
Novelties - Often electronic but things like like radios in the shape of coke cans or cars, telephones with breasts and so on are also seen here.
Art and paintings - Oil color paintings, hand embroidered scenes, carvings and prints; there is every choice in wall decorations here. While the huge quantity sometimes gives the impression of mass production, these are all actually hand made, but obviously in very large quantities. Paintings are generally sold unframed and the canvas can be rolled for easy transport, while embroideries are usually small and framed.
Traditional Chinese Arts and Crafts - Beadwork purses, ornate carved wooden boxes, Chinese Knotting, tiny Cloisonné items, all can be found here. Made locally or just over the border in China these are very reasonably priced and authentically Chinese. Calligraphy is often pre-prepared and can be purchased such as Chinese Names.
Chinese dresses - In both adult and child sizes, these silk embroidered masterpieces are a great party outfit. Do note though that as these are market stalls there is no chance to try items on. A silk Dragon Robe is a sure fit!
Mobile Phone Accessories - Hong Kong people love to decorate their cell phones, and here you will find every option of practical to funky things to accessories your phone. Cases are just the beginning, with stickers and dangles allowing you to really pimp that phone!
Jade and other Semi-precious stones - Bracelets, rings, dangles, pendants - all available in a range of different jade and jadeite stones. Understand that all these are semi-precious and for decoration, admire the handicraft and workmanship but do not look for valuable jewelry here.
Socks and branded underwear - Currently a hot topic, socks both practical and fashionable can be found alongside branded underwear.
Luggage and bags - Bought too much to carry home? Never fear as Temple Street Night Market has the solution to that too with it's wide range of luggage and bag stalls. Get everything from a full size hard shell suitcase down to a small backpack, in a wide range of styles and colors.